Time for a pit stop!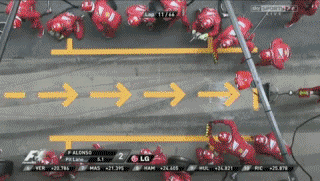 We all need to stop and take on fuel, rest and recharge – personally, professionally and spiritually. How we take care of ourselves and what we fuel ourselves with is probably WON of the most important things to consider, and sadly, often overlooked. It's not just what you fill your body/stomach with, but also how you fill your mind and spirit. You can be full of a lot of things (?) so take a moment to take stock of where your 'emotional gas gauge' is at and what you need to refill with…
FAITH is ALWAYS greater than fear and the absolute best remedy for moving through that feeling.
Are you full of HOPE or full of doubt? There is a light at the end of the tunnel, just keep going! You go this!
You can be full of GREATNESS AND GRATITUDE or you can let stress win. YOU ARE WON OF A KIND!

Your

PURPOSE

is looking forward out the huge expanse of the windshield, not the tiny rearview mirror of the past. Eyes on the road ahead!

?
There is SO MUCH WONDER in this world, if you will only look for it!
Now get back on the road friends! We still have lots of places to visit!